Licensed Philadelphia Wrought contractors welding fire safe burglar bars, iron rails, step rails, porch rails, wrought iron porch columns, wrought iron window guards, burglar bars, window guards, steel porch rails, steel porch columns, steel step rails, steel porch rails, steel step railings, Iron, all types of Fence & Railings for all your fencing needs. Installations in Philadelphia, Pottstown, Reading, New Jersey and Delaware. We manufacturer a wide variety of wrought iron & fencing products We fabricate wrought Iron Deck Railings Wrought iron railing designed to compliments your home. wrought iron mailbox posts, sandblasting, we do powder coating for our fences railings and window boxes. Drews Wrought Iron railings are American made in Philadelphia and are high quality Railings and fences. Wrought Iron railings by Drews Ironworks high quality wrought iron rails and wrought iron. Drews Ironworks of Philadelphia builds & installs custom wrought iron. Fabrication is done by Drews Philadelphia rail gate restorations
Drews Ironworks of Philadelphia: Lic# PA046383 Makers of EZ Escape, the fire safe window guard that quickly unlatches from the interior without using padlocks or tools. Drews Custom Ironworks is your source for ornamental wrought iron railings, fencing, wrought iron gates, burglar bars, columns and fencing in both wrought iron and chain link. Our shop fabricates everything from simple burglar bars to sculptured metal art. We custom fabricate wrought iron step railings, wrought iron porch railings, Handicap rails, pipe rails ramp rails and sidewalk entry doors for store fronts. Wrought iron window boxes can be built in any style and size. Wrought Iron Window Boxes. Products can be fabricated for do it yourself installations. Orders can be taken on line and shipped from our Philadelphia shop to you.
We fabricate copper planters and window box liners to any size you need. Our copper planters are made of pure 16oz copper, not the copper plated zinc sold by most commercial distributors. Drews Ironworks is a featured contractor on the TV show curb Appeal. Our crew will install and repair wrought iron rails, gates and chain link fencing. Our service area includes: Philadelphia, Pottstown, Norristown, Lansdale, Southern New Jersey and Northern Delaware. On line orders are shipped throughout the United States. Insurance and code violations are corrected in residential and commercial properties. Homeowner insurance policies typically require railings on all locations with three or more steps.
Contact: Drewsironworks@aol.com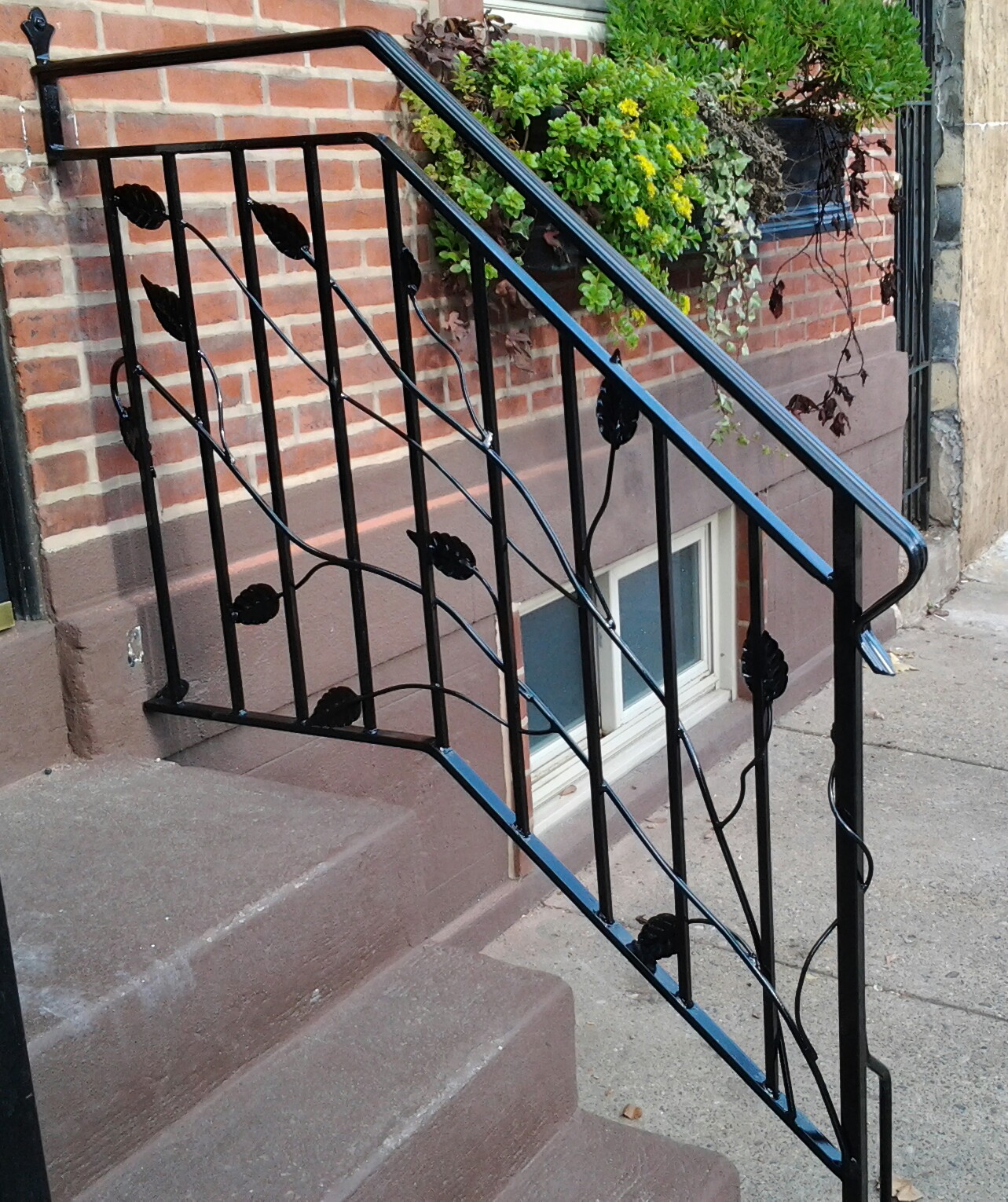 "travers.jpg" width="311" height="235">
We fabricate wrought iron railings and window box planters any style.
Our custom wrought iron mailbox posts are made from heavy duty solid stock.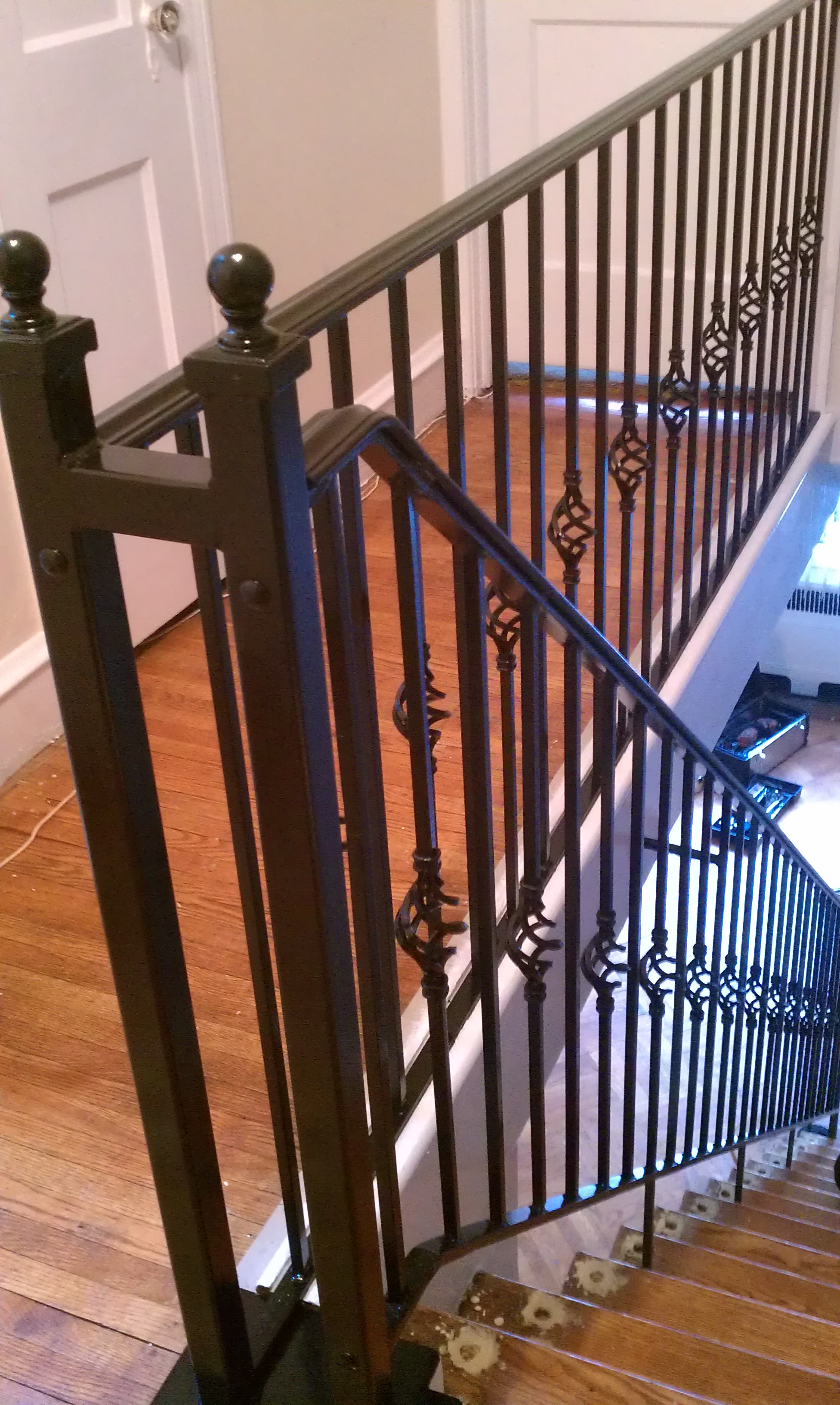 Wrought iron window guards also known as burglar bars can be made decorative to match the character of your home. We also make window guards that can unlatch easily from the inside of your home without a key or tool. This is a requirement for a quick exit in case of fire. Custom ironwork can be fabricated and shipped for "Do it yourself" installation. Click to our window guard page for more info: Window Guards Custom ironwork can be fabricated and shipped for "Do it yourself" installation.
Contact us for custom fabrication and shipping of our high quality wrought iron fence and rails.
Click Fencing for more information on chain link wrought iron and aluminum Installation services.
---
Our Mission
Our goal is to establish a lifetime relationship with our customers by providing high quality products and service. Making improvements and repairs to your home or business should be a stress free process. Drews ironworks is the primary fabricator for DCI Trailers. High quality stand up motor cycle trailers and self locking wheel chocks. Custom made with your choice of powder coated colors and galvanized frames. Proudly made in the USA.
By making you a satisfied customer, you become our greatest asset by referring us to your friends, family and neighbors.
---
Contact Information
All orders can be custom fabricated and shipped within the USA. Please contact us with your requests.
Telephone

(215) 247-7703

FAX

Same

Postal address

2001 N. 19th St. Phila, Pa. 19121

Electronic mail

shop: rob@drewsironworks.com

General Info: drewsironworks@aol.com